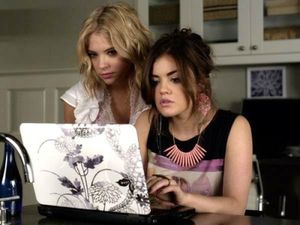 Hanna: Why are you looking at pictures of bald fat men?
Pourquoi tu regardes des photos d'hommes chauves et gros ?
Aria: I'm looking for a guy for my mom. I don't know I just thought that she could try online dating.
Je cherche un mec pour ma mère. Je ne sais pas j'ai juste pensé qu'elle pourrait essayer de faire des rencontres sur internet.
Hanna: She's divorced, not desperate.
Elle est divorcée, pas désespérée.
3.04 "Birds Of A Feather"